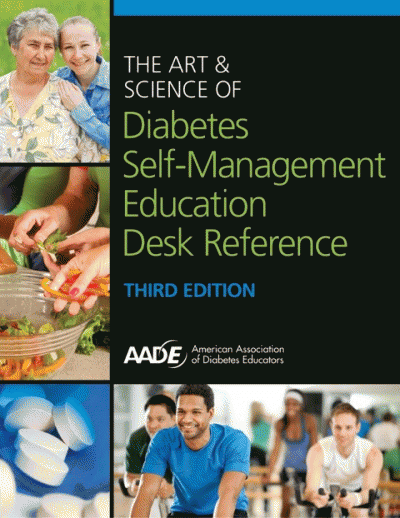 We are now taking  Pre-orders for The Art and Science of Diabetes Self-Management Education Desk Reference, 3rd Edition - 2014 -
$229 PRE-ORDER
The new 3rd Edition is currently in production with the AADE. The new edition includes two new chapters:  Transitional Care, and Non-Biologically-Based Therapies. We are expecting to have the books available to ship around the third week in July, 2014. If you would like to Pre-Order this book and be one of the first to receive it, please click here.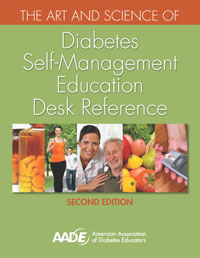 The Art and Science of Diabetes Self-Management Education Desk Reference, 2nd Edition - 2011 - $199.00 (save $30) while supplies last
The Art & Science Desk Reference is the must-have resource for all those entering the field of diabetes education. Written by practicing educators for diabetes educators, the Art & Science provides the core knowledge and essential strategies and skills all educators need to facilitate behavior change in persons with diabetes.
The content of The Art and Science of Diabetes Self-Management Education, 2nd Edition aligns education and interventions toward behavior change and optimal outcomes. With this reference, you can help your patients achieve the AADE7 Self-Care BehaviorsTM.

Two sections address the art and the science of diabetes education, providing a manageable approach to healthy behavior change.
Desk Reference
Art & Science of Diabetes 2nd Edition


 
  


While supplies last


 

 

 

 
 
---
More info:
The new edition (703 pages) addresses the role of the diabetes educator in disease management, the DSME/T process, program development, behavioral issues, and current clinical practices. The text features real-world tips addressing health literacy, cultural competence, program management, and teaching tips. Chapters are illustrated with charts, tables, and graphics.  Retail price $249
Take look inside the AADE Desk Reference!
Product Demographics
Author:         Carole' Mensing, RN, MA, CDE - Editor-in-Chief
Publisher:       AADE
ISBN Number:  978-1-881876-17-5
Format:          8 1/2 x 11, hardcover
Edition:          2nd Edition
---