$89.00 (Save off retail price!)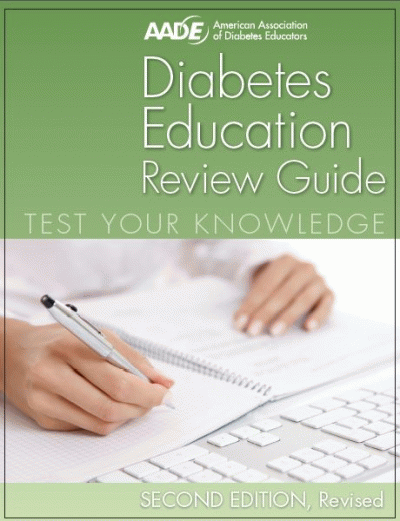 Test Your Knowledge with Revised 2nd Ed 2013, Published by AADE
Includes a total of 400 practice test questions. This revised edition highlights the critical elements of diabetes education and includes 200 questions in the book with a reference and rationale for each answer. In addition, within a few weeks of purchasing the Review Guide, you will receive a link from the American Association of Diabetes Educators (AADE) to access 200 computerized questions through their learning portal. These questions are different from the test questions included in the book, for a total of 400 practice questions.
The Diabetes Education Review Guide is an excellent study tool and comprehensive resource that helps you focus your study time efficiently and effectively.  In addition, the Guide offers detailed review information divided into the three main sections on the exam:  Assessment, Intervention, and Program Development and Administration.
 

+

   Diabetes Education Review Guide
  


 

 

 

 
 
---
Product Demographics:
Author: Carol J. Homko, PhD, RN, CDE; Evan M. Sisson, PharmD, MHA, CDE; Tami A. Ross, RD, LD, CDD
Publisher: AADE
Date of Revision:  April, 2013
ISBN Number: 978-1-881876-03-8 Edition: 2nd Revised
Pages: 159
Diabetes Education Review Guide Video
Published in 2009 by the American Association of Diabetes Educators, this guide is designed to serve as an effective certification exam preparation tool. The Guide offers test-taking strategies, self-assessments to gauge areas that may require additional study, and a practice 200 question exam to simulate exam day.